We know that enjoying your favorite strains and products is enhanced by the right entertainment setup.
That's why we're thrilled to announce our giveaway of a 65-inch Smart TV – the ultimate addition to your cannabis haven! Imagine indulging in your preferred cannabis products while immersing yourself in your favorite movies, shows, or music, all on a state-of-the-art screen.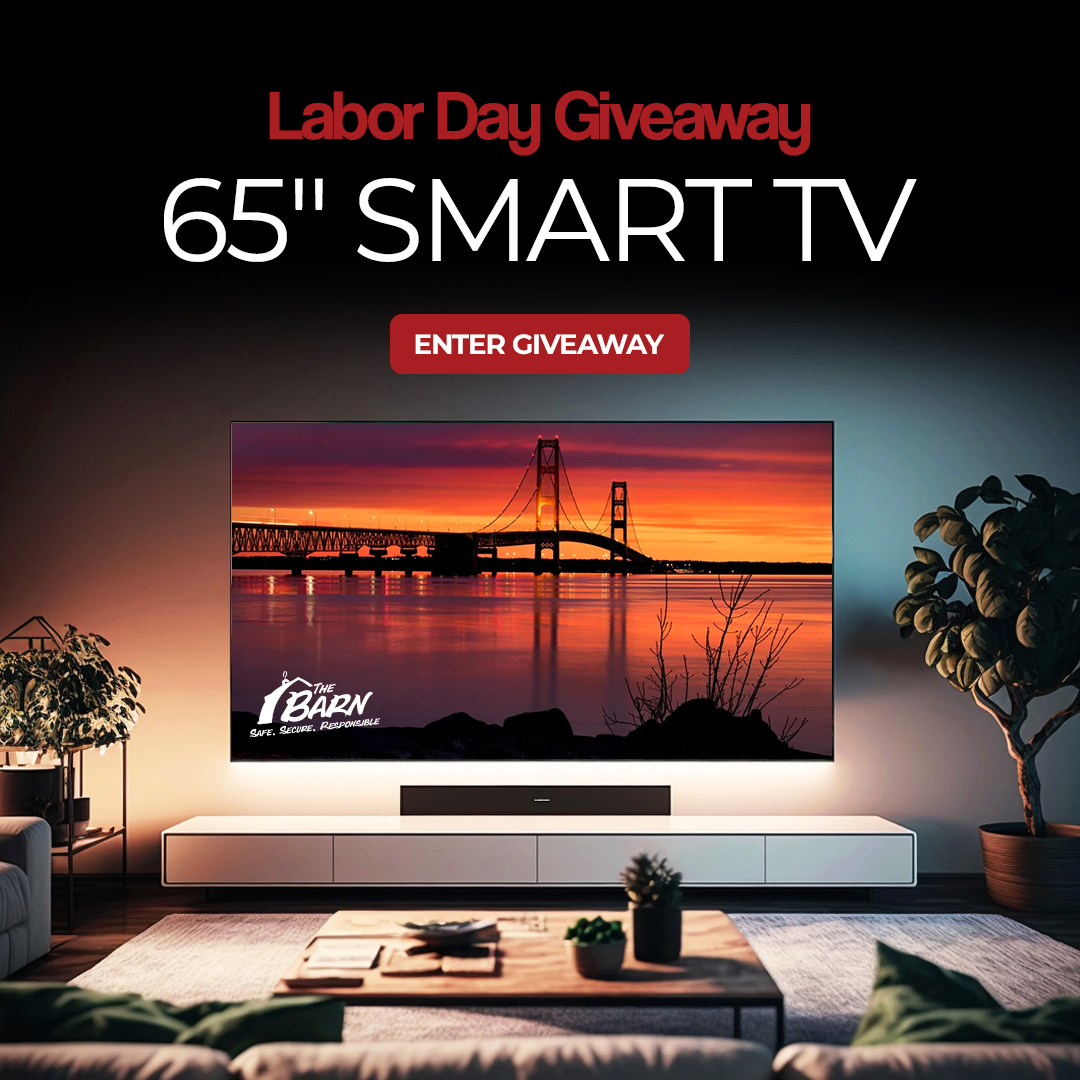 How to Enter the Giveaway
Participating in the 65-inch Smart TV giveaway is easy:
Visit The Barn Marijuana Provisioning Center @ 3491 Bristol Rd. Burton, MI.
(Get Directions) (View Menu)
Spend $50 to receive one entry in the giveaway.
Spend $100 to receive three entries into the giveaway
All shopping must done be before September 3rd, 2023
Cross-Sell / Up-Sell Area
Are you ready to elevate your cannabis journey to new heights?
Look no further than The Barn Marijuana Provisioning Center in Burton, Michigan! As a premier destination for cannabis enthusiasts, we're excited to announce an exclusive giveaway that will make your visit even more unforgettable – a chance to win a stunning 65-inch Smart TV!
At The Barn, we understand that an exceptional cannabis experience goes beyond just the product. It's about creating a welcoming environment where enthusiasts from Burton, Fenton, Grand Blanc, and beyond can come together to explore a carefully curated selection of top-notch cannabis products while enjoying the latest in entertainment technology. Our commitment to providing the highest quality products, coupled with a dedication to customer satisfaction, sets us apart as the go-to dispensary in the region.
Cross-Sell / Up-Sell Area
Why Choose The Barn?
Here's what sets The Barn Marijuana Provisioning Center apart:
Premium Selection: Our dispensary boasts a diverse range of cannabis products, carefully curated to cater to every preference and experience level. From flower to concentrates, edibles to topicals, we have something for everyone.
Expert Guidance: Our knowledgeable staff is passionate about cannabis and committed to guiding you towards the perfect products for your needs. Whether you're a seasoned connoisseur or new to the world of cannabis, we're here to help.
Community Vibes: The Barn is more than just a dispensary; it's a community hub where cannabis enthusiasts can connect, learn, and share their experiences. We take pride in fostering a warm and inclusive atmosphere.
Convenient Location: Conveniently located in Burton, we're easily accessible to those in Fenton, Grand Blanc, and surrounding areas. Stop by and see for yourself why we're the preferred choice for cannabis enthusiasts in the region.
Join us for a chance to win a cutting-edge 65-inch Smart TV while exploring our exceptional range of cannabis products. From Burton to Fenton to Grand Blanc, we're excited to welcome you to a new era of cannabis enjoyment.
Visit us today and discover why The Barn is the ultimate destination for cannabis enthusiasts seeking quality, community, and an unforgettable experience.
Cross-Sell / Up-Sell Area